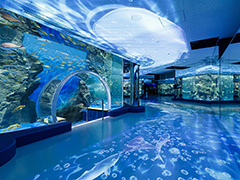 The aquarium is home to 40,000 animals of approximately 500 different species found in the sea waters near Noto Peninsula.
You will forget all about the time as you enjoy a variety of aquarium attractions and activities such as dolphins and sea lion show, otter feeding, penguins' stroll, the sea bream's world of light and sound, etc. Notojima Aquarium offers various interactive activities to the visitors such as animal feeding, touching animals such as dolphins and so on.
* Please ask the staff for pamphlets in English, Chinese or Korean. These pamphlets are available at ticket window.
* However, all the information inside the aquarium is in Japanese only and we do not have any foreign language-speaking staff. We are sorry for any inconvenience.
Main Attractions
Whale Shark Zone: Blue World
Visitors can enjoy watching the large sized fish species such as a whale shark, swimming majestically in the largest water tank along the Sea of Japan.

Dolphins' Paradise
As you watch dolphins and penguins swim freely over the top of your head in one of the largest underwater tunnels in Japan, you will get a feel as if you were taking a stroll under the sea.

Dolphins and Sea Lion Show
Enjoy this dynamic show up close and personal as dolphins put up a great show with their jumps and big splashes. Do not miss our aquarium's most popular Dolphins and Sea Lion Show!

Get up close and personal: Interactive Tank
Visitors can observe and actually touch and feel a variety of sea creatures in this water tank.

The Sea Bream's Fantasia of Light and Sound
Observe the school of fish, as they swim left and right to the tune of beautiful piano melody. You can enjoy a fantasy-like world created by light effects.

The World of Jelly Fish
You will feel a sense of tranquility as you watch a variety of jelly fish species swim along in the water tank, under a magical atmosphere created by special light effects.